Asbestos removal is a job that needs to be done right. We hold all the required licences, accreditation and insurances – and have assembled a team of professionals with decades of experience remediating asbestos contaminated sites. Absolute Environment Services specialists take care of everything, from testing to disposal to monitoring – a complete and professional service provided in a timely and cost-effective manner to Canberra residents who need asbestos removed from their homes and work places.
Our process
AES is...
Fully licensed and insured
Fully compliant with ACT regulations
Focused on safety
Offering a highly efficient service anywhere in Canberra
Our process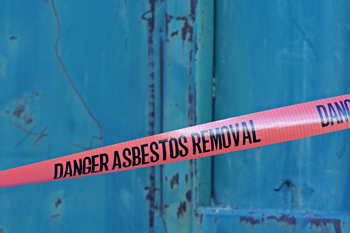 Thanks Andrew. The boys did a great job. 
Thanks Andrew & Matt, I was very impressed with the professionalism and the efficiency of your crew. A job well done.

I would be happy to recommend your company to my friends who may be doing similar work.
Thanks for a great job, it is was so good to see such a clean and tidy site after you had finished.
See you on the next job
Thank you Andrew and the team – good job well done.
Our Process
1. Inspection & Testing
One of our specialists will inspect the house or building to assess the severity of the asbestos contamination and the affected areas. His expertise in identifying the presence of asbestos in Canberra houses built before the asbestos ban will allow us to minimise the amount of damage by determining the exact areas that need to be dismantled.
If the inspector finds that the asbestos is still in relatively good condition, he may recommend encapsulation instead of removal. The asbestos-containing material will then be coated with a special adhesive that will prevent it from deteriorating and releasing the dangerous asbestos fibers into the air.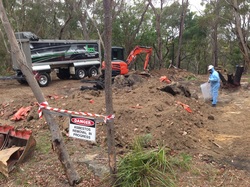 2. Removal
Once the specialist has finished inspecting the place and recommended that the asbestos be removed as the only safe option for the health of the residents, he will require everyone to vacate the premises and our safety protocols will be put in place.
The AES team will complete the procedure, carefully isolating the area they are working on in order to eliminate the risk of toxic fibers getting out.
3. Disposal
Once the asbestos-containing materials are taken out, they will be placed in special containers and sent to the proper disposal facilities.
AES takes great care to ensure the safe disposal of the removed materials, so they will not become a risk to the people and the environment.
4. Final Inspection
The inspectors will return to check that the asbestos is no longer present. The house will be issued a clean bill of health and it will be safe for people to move back inside.